Mike Nowak's first book deals with the trials and seductions of gardening
. . . and the paranoid fantasies of gardeners. He has been writing his thoroughly off-beat humor column for the back page of Chicagoland Gardening since 2003. He's been called the "Dave Barry of Gardening," but his mind doesn't really work like anyone else's. With titles like "Pathogens on parade" and "Attack of the Killer Asparagus," this book takes you into a dystopian world where invasive plants raid refrigerators and birds are for more terrifying than Alfred Hitchock ever imagined. With the hilariously twisted illustrations of Allyson Hunter.
"Mike Nowak is one of the smartest, funniest people in the horticulture world today. I never thought that a description of powdery mildew would make me laugh out loud, but that was before I picked up this book. I've loved his radio show for years, and I'm so delighted to see his work in print at last!"
Amy Stewart, New York Times bestselling author of Wicked Plants
"Warning: You will learn a fair amount about actual gardening in this book--even the scientific names of plants, for example, but you will also laugh until your throat hurts and you have to lie down."
Michael Bryson, Director of Sustainability Studies at Roosevelt University
and author of Visions of the Land
"Mike Nowak is a slapstick Everygardener, taking all our self-delusions, mishaps and confusions and playing them for big laughs."
Beth Botts, award-winning garden writer for the Chicago Tribune and
Chicagoland Gardening Magazine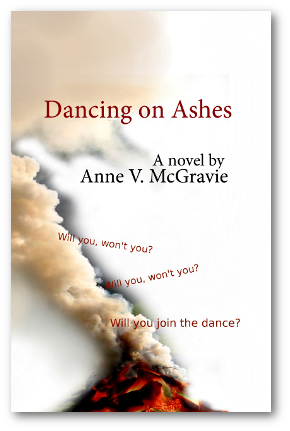 Dancing on Ashes
A novel
by Anne V. McGravie

Around the Block Press
Bonnie Raitt. Betty White. Nelson Mandela. We all admire people who have been around the block, who have lived a little and let life teach them something. They have the kind of knowledge and wisdom that we're looking for in our authors.
Some of our authors are wildly creative and exciting. Some are wryly funny. Some have professional expertise and some have intuition and insight. But whatever other qualities they have, they are all grounded in the reality of love, friendship, work and all those things that make up life, good and bad.